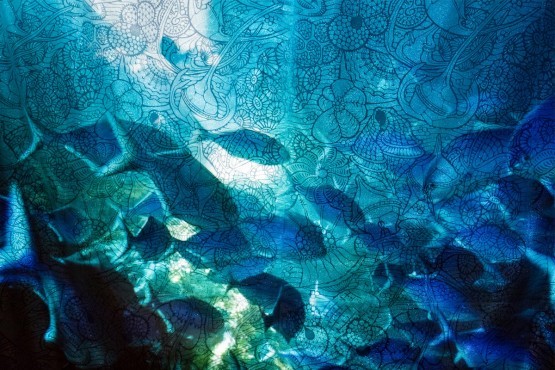 Title: The Ocean Inside
Location: TBA
Artist: Eveline Kolijn
Curator: Caterina Pizanias, PhD
The Ocean Inside is a multi-media installation based on the artist's first-hand experience of witnessing the devastating effects of climate change and other human-made environmental stresses on the coral reefs. For the past five years, Eveline has filmed underwater video footage, mostly in the Caribbean and around coastal shores, capturing the beauty and degradation in the ocean and the human impact on reefs and seashores. This footage is projected onto a translucent veil that is hand-printed with reflecting mica in a 4×4' relief-cut tiling pattern, depicting a network of plankton that represents the web of life. When viewers move behind the ocean veil, they merge with the projected seascapes and webs of plankton, the installation serves to heighten awareness on climate change affecting the oceans, generate ecological literacy and to reflect on the passage of time, human exceptionalism and connection to life.
Eveline Kolijn is a printmaker and installation artist currently living and working in Calgary, Alberta. Eveline received a Master's degree in Cultural Anthropology from the Leiden University (Netherlands) and a Bachelor's Degree in Fine Arts from the Alberta College of Art + Design. She has participated in national and international exhibitions and residencies, including public art and community engagement projects. In 2015, Eveline was the first Canadian artist in residence at the Vorres Museum in Athens…….stay tuned for more….