passage(s) / περάσματα
Title: passage(s) / περάσματα
( an exhibition in two parts )
Location: Cultural Foundation of Tinos, Tinos, Cyclades, Greece
Dates: June 13 to July 8, 2019
Artist: Allyson Glenn
Curator: Caterina Pizanias, PhD
The exhibition passage(s) / περάσματα will showcase nine large-scale paintings resulting from artist Allyson Glenn's 2016 residency at the Vorres Museum in Athens, Greece. passage(s) / περάσματα suspends time to illustrate and explore how ancient Greek mythology and its assortment of gods, goddesses, and demigods with human lives might play a productive role in helping us with today's continuous social upheavals and our chronic incapacity to overcome them. Allyson Glenn is asking if an(other) look back at antiquity might provide insights into our turbulent times. To that effect, Glenn, Janus-like, looking back into Greece's mythological past and looking forward into its future, examines crossings and transgressions of borders in search of sites of resistance that may expand conventional notions of nation, ethnicity, identities, displacement, migration, and more.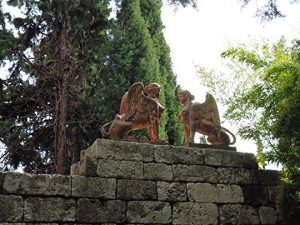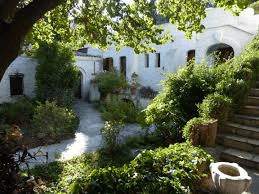 In 2016, Allyson Glenn was the Canadian artist in residence at the Vorres Museum in Paiania, a suburb of Athens, Greece. The Vorres Museum is the brainchild of the late Ion Vorres, a Greek-Canadian with a passion for contemporary visual art but also a strong commitment to preserving Greek artifacts that represent the myriad cultural layers making up Greece now. The museum houses some of the most important Greek artists and artworks of the post–World War II era and is spread over five acres in different buildings—which he bought as soon as he'd saved some money. The buildings are strewn within whimsical gardens and connected by arches, steps, and waterfalls. Throughout the grounds are sculptural pieces: originals and imitations all placed perfectly with his own hands. Allyson lived and worked within this magical place, amid gardens dotted with statues of ancient gods and goddesses, sirens, and other personae from antiquity, where she coaxed apparitions from the Olympian pantheon. She was fascinated by the and was pulled by the "siren call" of the garden and its silent inhabitants—so much so that it transformed Glenn into one of Michel de Certeau's imaginative and resourceful "flâneuse. After all, the garden's inhabitants and their deeds gave rise to philosophy, became the bedrock of psychology's archetypes, inspired the likes of Shakespeare, and, let us not forget, were the dramatis personae in the metaphorical paintings of the Renaissance.
Allyson Glenn: Bio and Artist Statement
Bio Statement:
Allyson Glenn graduated with a BFA from the University of Alberta in 1998 and an MFA from the University of Calgary in 2000. She has received three Elizabeth Foundation Awards, several grants from the Alberta Foundation for the Arts, BC Arts Council, the Canada Council for the Arts, and a President's SSHRC from the University of Saskatchewan. Private and public collections include the University of Calgary and the Alberta Foundation for the Arts. She has exhibited in the United States, Great Britain, Czech Republic, India, Switzerland, Germany, Greece, and China. She is an Associate Professor, Department of Art and Art History, University of Saskatchewan, Saskatoon, Canada.
Artist Statement
The area of my research is contemporary figurative painting with a specialization in portraiture and the figure. My paintings are large, technical, visceral, messy, and sometimes political. The human experience, particularly how people engage with one another, is an important theme in my work. I create work that addresses social conflict, culture, identity, myth, and man's relationship to the environment.
Visual art has the capacity to open new ways of seeing and thinking about the future – permeating the minds of visitors long after the exhibitions. Building on previous projects – Catalyst, the Silver Road, and Gold Dust where I investigated sustainability of oil, water, and migration, my recent painting project entitled Passages uses 'myth' as a tool to disseminate topics surrounding land, people, and sustainability. This series is a follow-up as the 2016 Canadian Artist in Residence at the Vorres Museum, Athens. With its many mythological references, lush grounds, sculptures, countless walls, architecture and proximity to the east, the museum was an ideal context to explore the complex intertwining of these ancient characters and current events. The complexity of Greece's geographical, economic and philosophical positioning made it a unique ideological paradigm to investigate these topics around boundary.
Note: all images are from works in progress or on-site studies that will become the series to be presented during passage(s) / περάσματα on Tinos next year.
For more information
contact Caterina Pizanias